For any company with more than 5 employees, it is a legal requirement to write down a Health and Safety Policy for your business. Even for businesses with fewer than 5 employees, it is advisable to create some form of document that demonstrates Health and Safety risks have been identified and precautionary measures implemented.
For growing businesses, the task of Health and Safety compliance can often seem a little overwhelming. Our highly qualified consultants are available across the UK to take away the hassle of health and safety compliance. We develop bespoke health and safety documents that ensure our clients reach the legal standard.
Health and Safety Documentation Templates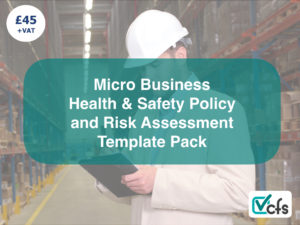 For companies looking for a low cost route to compliance, we offer bespoke Health and Safety document templates for a range of premises such as warehouses, bakeries and offices. Template packages include risk assessments, health and safety policies and all the necessary documentation to provide evidence of legal compliance.
Find out more about our Health and Safety template packs.
Health and Safety Policy
The Health and Safety at Work Act states that all organisations with more than five employees must have a written Health and Safety Policy. This document should discuss risk assessments, fire safety, first aid, manual handling and other workplace issues. A Health and Safety Policy is a working document that should establish how an organisation protects those at risk. Whether you're in need of a policy for a manufacturing, retail, leisure or any sort of industry we can help you create it. 
Our experienced consultants can create a bespoke Health and Safety Policy, tailored for your business to demonstrate legal compliance. 
Health and Safety Audit
If you're unsure on whether your business meets the legal requirement for Health and Safety, our consultants can conduct an audit to assess what procedures are in place and what areas need to be improved on. Based on a defined criteria, we will carry out a critical assessment on the current Health and Safety management system and identify any lacking areas.
Induction Manuals
Induction Manuals are essential to ensure employees are trained to efficiently operate within their workplace. Particularly when operating machinery or high risk equipment, it is vital that employees are informed of the necessary processes to ensure workplace incidents are prevented.
Our team have experience in developing clear, informative documents to educate your employees how to work safely and efficiently.
Employee Handbook
It is essential for employers to provide their employees with information on the legislation surrounding their employment. Employee handbooks can cover topics such as overtime pay, minimum wage, flexible work schedules and bereavement leave. Without a supporting document, these topics can become unclear and difficult to apply.
Our Health and Safety consultants are well experienced in establishing appropriate guidelines to advise employees on business procedures.
CFS Health and Safety Documentation
Our approach to Health and Safety is to work closely with our clients to create tailored solutions, suited to their business. This allows us to provide an optimised service that prevents unnecessary expense of time or costs. Our highly qualified health and safety consultants are available across the UK.
For more information on Health and Safety documentation, contact us today.