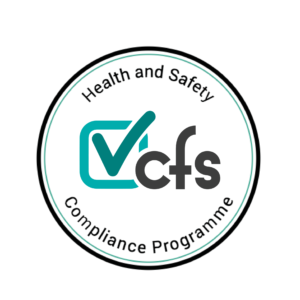 The CFS Complete Compliance programme sets out to remove the hassle and confusion of Health and Safety, and guide clients to compliance. This Health and Safety programme takes on a pragmatic approach to ensure we minimise spend on time or costs.
Health and Safety systems are vital to ensure the safety of your employees and customers, but for many business owners, attempting to navigate legislation can feel like a minefield.
The purpose of the Complete Compliance programme is to remove the hassle of health and safety for growing businesses, allowing management to focus on their day to day duties. It is important to start out on the right track for Health and Safety, and our highly qualified consultants have experience in a wide range of industries to help you do so.
All members of the CFS Health and Safety Complete Compliance programme demonstrate their dedication to safety by taking action to protect all those that can be affected by their business. This programme provides members with ongoing maintenance of safety systems to ensure they provide a safe working environment.
Members of the Health and Safety Compliance Programme receive:
• Telephone consultation with an expert to assess your Health and Safety requirements
• Creation of bespoke Health and Safety Policy template and manuals for your operation
• Site visit to conduct risk assessments and to provide an overview of the system
• Documented Risk Assessments and Safe Working Procedures

• Access to the CFS Online Project Management System

• Unlimited telephone and email support 
• Follow up call within 4 weeks of set up to ensure Health and Safety compliance has been met or is in the right direction
• Quarterly Health Check Call to ensure your business remains legally compliant and highlight any areas in need of improvement
• Annual review – Site visit to conduct an annual review of Policies, and Risk assessments, Full Safety Tour
To find out more about the Health and Safety Complete Compliance Programme, contact us today.