For companies starting out in the food and drink industry, legal compliance for food safety can be a little overwhelming. In most cases, senior roles within a small, growing business simply don't have the time to thoroughly learn the requirements of food safety compliance sufficiently enough to be able to implement systems accurately. Many businesses choose to remove the hassle and save time by enlisting the advice of a consultant who can streamline food safety legislation to the aspects applicable to your business.
The purpose of the Food Safety Complete Compliance Programme is to provide a quick and easy solution for growing businesses wanting to meet legal compliance for food safety. Our assistance allows management teams to focus on their day to day duties, and ensure businesses start out on the right track for Food Safety. We provide members of the food safety compliance programme with the ongoing maintenance of its Food Safety and Quality Management systems. This includes a schedule of visits to assist in the ongoing maintenance of Food Safety and Quality Management procedures, to maintain legal compliance and ensure customer expectations for safe and quality products.
Food Safety Compliance Programme offers:
• Creation and ongoing assistance with food safety management systems
• Working documentation – monitoring forms etc.
• Ensure legal compliance for food safety
• Ongoing support
• Schedule of site visits
• Access to the CFS Online Management Tool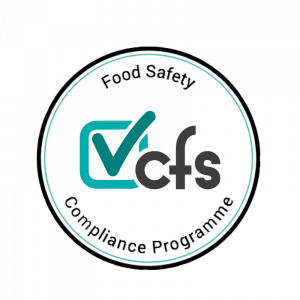 Our Food Safety Compliance Programme is a fantastic solution for small businesses looking to attain some form of food safety certificate but perhaps are not ready for a standard such as BRC. Many of our existing food safety compliance clients are growing companies who need to provide potential or existing clients with evidence of the food safety systems in place within their operation. Our compliance programme provides evidence of ongoing support and due diligence for food safety.
To find out how your business could benefit from our food safety compliance programme, submit an enquiry below or talk to an expert on 08450 267 745.