From April 2022 onwards, large businesses will have to display calorie information on their food labels and menus in England. We've put together this short, easy-to-read guide to help you navigate through the upcoming changes.
What is the Purpose of the New Calorie Labelling Regulations?
According to the Health Survey for England 2019, a National Statistics publication which reports on the nation's health, 28% of adults are obese and 36% are overweight in the UK.
The Global Obesity Observatory indicates that the UK is the world's 29th most obese country.
Furhermore, recent research has confirmed the greater health risks of being obese amid the Covid-19 pandemic. In fact, obese patients have a "37% increased risk of dying from Covid-19 compared to non-obese patients."
Given such high rates of obesity and their associated risks, the new regulations will come into effect to empower the public to make more informed, transparent and healthier choices when it comes to eating.
Public Health Minister, Jo Churchill, explains that the measures aim to "support and encourage people in achieving and maintaining a healthier weight".
As reported by Diabetes UK, the government is expected to introduce further regulations, namely restricting shops from promoting foods that are considered unhealthy.
What do the New Calorie Labelling Regulations Actually Entail?
Calorie information will need to be displayed to customers at their point of choice. This includes food labels and menus (digital and physical) as well as food delivery platforms.
Calorie information refers to the energy content of the food in kilocalories (kcal). Menus for adults will also need to make reference to the fact that "adults need around 2000 kcal a day".
The calorie information provided by businesses will need to indicate the size of the portion to which it relates.
The new regulations will apply to "non-prepacked food and drink items prepared for immediate consumption", as there are already existing regulations for prepacked foods in place.
There will be a provision in place for customers who expressly do not want to see calorie information for their food. This will allow them to receive a menu/information without calorie labelling.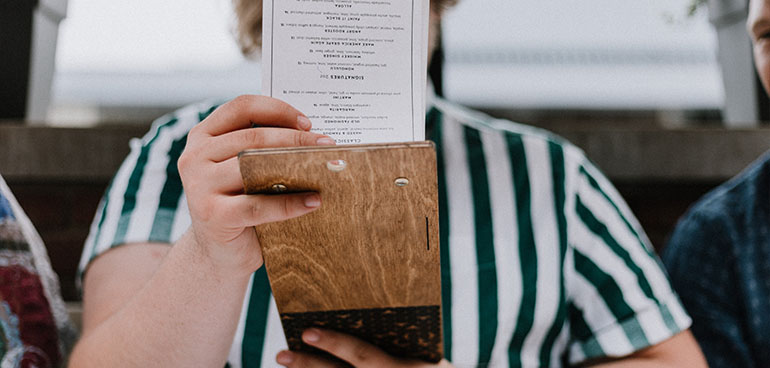 When do the New Regulations Come Into Effect?
Following a consultation in 2018 and confirmation in 2021, the calorie labelling regulations will come into effect in April 2022.
The regulations will be enforced by local food authorities. Non-compliance (after an improvement notice has been issued) can result in fines for food establishments.
Displaying Calorie Information – Who Has to Comply?
The new calorie labelling regulations will not impact smaller and independent businesses. They will, however, impact larger businesses with 250 or more employees in England, including coffee shops, takeaways, entertainment venues, bakeries and restaurants (except for a few exemptions like hospitals and military establishments).
Advice & Resources for Food Businesses
For detailed information about the new regulations, make sure to check out the government's legislation page.
Here at Complete Food Safety, we help businesses achieve legal compliance. From conducting site audits to setting up effective food safety management systems, we offer a plethora of helpful services.
With decades of experience in the industry, our experienced food safety consultants always provide tailored, practical advice that accommodates the needs of each individual business.