For businesses within the food industry, a 5 star Food Hygiene rating is becoming increasingly important as consumer awareness of the FHRS continues to grow.  It is not currently mandatory for businesses in England to display their Food Hygiene Rating within their premises but all scores can be accessed online on the Food Standards Agency website. However, the Local Government Association is calling for England to follow Scotland, Wales, and Northern Ireland's lead in making it compulsory to display their Food Hygiene Rating Score.
The Food Hygiene Rating Scheme is run by the Food Standards Agency, and during inspection, local authorities will inspect three aspects of your business:
• how hygienically the food is handled
• how food is prepared, cooked, re-heated, cooled and stored
• the condition and structure of the premises
To be awarded a food hygiene rating of 5, businesses need to perform well in all three categories.
If your business fails to achieve a 5 star rating, the inspector will inform you as to what areas need improvement before your next inspection. The regularity of inspections is determined by the severity of risk posed by the nature of the business. Food businesses dealing with high risk foods may be inspected more frequently than those handling low risk foods.
Food Safety Audits – improve your chance of a 5 Star Rating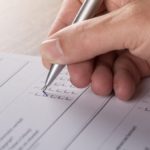 If you are unsure of the efficiency of your Food Safety Management System, a food safety audit can expose any non-conformities that could damage your chance of a top rating for FHRS.
Our experienced food safety auditors know exactly what issues to look for in your kitchens, storerooms and serving areas, ensuring your business receives a thorough audit against the requirements of the legal standard.
Benefits of our Food Safety audits:
• Opportunity to identify and solve non-conformities before EHO inspections.
• Improve your chances of a 5 star rating under the FHRS
• Demonstration of due diligence
• Reduced risk to customers
• Protect your brand reputation
• Sets best practice standards for employees
After a Food Safety Audit, our team can work with you to improve your Food Safety systems through a range of advisory and training services tailored to meet your business needs.
Find out how your business can improve its Food Hygiene Rating, talk to an expert or submit an enquiry below: